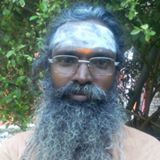 Siddhar Somasundaram
Siddhar Somasundaram is a Sculpture doing temple idols for Hindu Gods.
He is a Herbalist and Homeopath.
He is a strong Saivite visiting various Siva Temples across the country.
Nithya Sakala Devatha Homam
He does Daily Homam (Sakala Devatha Homam) for many years.
This homam is good for one and you can do on all important days like
birthday, wedding day for health, education, business improvements, etc.
Do participate in this homam by sending your name, birth star and your problems
along with Rs.2,000/- to the following bank a/c.
K. YOGI
, State Bank of India,
S.B. A/c No. 20144712584
Chromepet Branch Code: 13383, IFSC: SBIN0013383
Also he arranges specific homams like Navagra, Danvanthri, Ganapathi by Vedic and Tantric methods.
For further details contact
Astrologer YOGI
OR
Nalamuru Somasundaram
1/21, Gangai Amman Koil Chinna St,
Ramapuram, Chennai-600 089.
Mobile: 7708306096